Meet The Musicians!

Josh Toering, Dan Orias, Dana Marcus
and Ana Teran

The following three musicians, Josh, Dana and Dan are the best any girl could hope to work with! I owe them a ton of gratitude and appreciation. Their efforts made my dream of a CD possible.
And special thanks to Ana for the wonderful backup vocals, especially so much needed on "Checking Out the Guys".
Here's a little bio on each.


Josh Toering

Josh Toering has been in southern California for 11 years. Originally a classical pianist, he learned guitar during a month long drive across America. On his return to Los Angeles he traded in his keyboards for a Stratocaster and never looked back. Josh studied under Long Beach blues legend Bernie Pearl. After performing with a few blues groups, he joined Donna's pop band and worked with her to co-write some of the songs on her CD. In between rehearsals and recording sessions Josh occasionally performs local solo shows.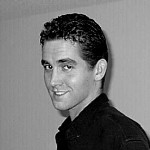 Dana Marcus

Dana Marcus studied guitar at the Berklee College of Music in Boston. He then studied with Charlie Banacos for three years, and Jerry Bergonzi for one year. Dana has played in numerous bands in the Los Angeles area, and can be heard on "EYC" Express Yourself Clearly on Gasoline Alley Records. Dana is currently writing New Age Instrumental Music, which he plans to release on an independant CD.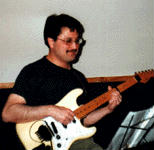 Dan Orias

Daniel Orias grew up in Santa Barbara, California, and fell in love with pop music during high school. In college, he leveraged that love of pop music into being a disc jockey at KCSB-FM, using the air-name of The CC Kid. The radio station had a piano and it was there that Dan developed his keyboard style. During his early 20s, he picked up the bass guitar and guitar and learned to play and write songs. In Santa Barbara, he played with these pop/rock bands: The Stingrays, In the Dark, and Celebrity City. He also wrote music and played bass for a jazz combo formed out of an SBCC Community Education class. Since living in Los Angeles, he has played with: The Totems, The Driftwood Souls, The Dark, The Erotic Politicians, and an early version of Donna Grayson's band. He has also performed live as a soloist, as accompanist to Siobhan Carmean, and as part of a duo with Barbara Ramirez. He anticipates starting a series of solo performance soon.
Dan's latest project: Danny and the O-Tones MP3 Download Site.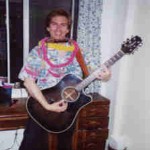 Ana Teran

Ana Teran is a saprano who has been publicly singing for over ten years. Although she mostly sings christian music in religious events, she is also known for singing contemporary music. She studied opera with the famous cuban opera singer Marybel Ferrales (soprano) for a year, and took took singing lessons for five years with various teachers including Vicky Ortiz in Hermosillo, Son Mex. Presently she forms part of a Christian musical group named Kerygma, which performs various types of events. This group consisting of two guitarists, a pianist, and three vocalists, is rapidly becoming one of the most popular and pleasantly heard groups.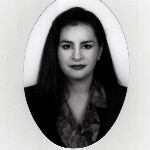 Download my Backgrounds, and Wallpapers. View my Fan Pages
Go to my Main Page