About Me and My Music!


I have always been a Bubblegum Music fan. Bouncy, fun pop is my thing.
Growing up in Chicago, my favorite songs were, and still are "Dizzy" by Tommy Roe and "Sugar Sugar" by the Archies . I never missed a single episode of "The Monkees", "The Patridge Family", or "the Donny and Marie Show".
I used to pride myself on the fact that I had every single album made by The Osmonds, Donny Osmond, and yes, even Jimmy Osmond. During Junior High, I had every picture of Donny Osmond and David Cassidy, from TigerBeat and 16 Magazine, on three walls of my bedroom. My family would say "How can you stand to have all those eyes looking at you?" But they were there, wall to wall, ceiling to floor, on three walls ! Oh, and the fourth wall? Painted in the exact likeness of the Patridge Family bus! All those colorful squares outlined in black. I got into trouble big time for that, because of course, no one knew I was painting the wall until it was over and done with. My parents almost killed me, but too late! There was nothing anyone could do - I was just a teeny-bopper who loved bubblegum music!

During highschool I moved to California. I spent my 20s knocking on alot of doors trying to be an actress. I was in alot of bad plays that no one saw - and alot of good plays that no one saw. Did alot of non-union movies, where I didn't get paid. After years of doing this I was ready for a steady job. So I started work doing Accounts Payable for a Real Estate Firm. I've been at my current job over 10 years. I am Supervisor of the Accounts Payable Department, and I like it alot. Hey, my 10 year bonus is helping to finance my CD.

Well, as I approached the big 40, I realized how short life really was. And I came to the conclusion that I really needed to do that which I love the most - bouncy fun pop! So I advertised in Music Connection and the Recycler, and met up with my songwriting partners Dan Orias and Josh Toering. They are the co-writers of the songs on my CD. I've written the lyrics and the two of them have done a fantastic job of writing the type of music that I love - pop music. Yes, there was a band together for a while, but its hard to find musicians to do pop music. Most in Los Angeles are into grungy hard alternative. So putting together a CD of my own co-written pop music was the fastest and easiest way to create the music I love. Dana Marcus has joined along as a musician, and Ana Teran has contributed backup vocals. Rehearsing at South Bay studios, and recording with Bob Knezevich at Pacific Sound Design, have both helped to make the process run smoothly.
I think a little tidbit of conversation that happened during recording "One Way Affair", sums it up perfectly. Dana turned to me and asked "Donna Have you had your mid-life crisis yet?" My reply: "Dana, this CD is my mid-life crisis!"


Everyone who has pitched in with me on these songs has done a wonderful job, and I owe them a ton of thanks.
Listen to Music, Read Lyrics, Here !
Well, I hope you enjoy the songs! Listen to the sound bytes, read the lyrics, and send me an email. If you like what you hear you can download from www.Mp3.com now, or request a full CD either by mail or on Amazon.
I hope to hear from you soon!
Peace and Love, Donna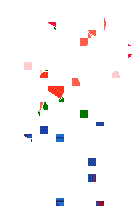 Download my Backgrounds, and Wallpapers. View my Fan Pages
Go to my Main Page


This page created 1999