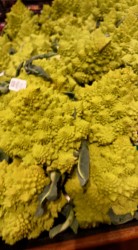 Have you ever been in a grocery store, and you saw a vegetable that was so pretty and unusual that you just had to take a photo of it ? That was me a few days ago at Whole Foods Market. They had a big display of Romanesco Broccoli – which is actually a cauliflower. Hmmm, I don't know how you can get those two mixed up.
Some places a more common name is Roman Cauliflower. Either way, the ones in front of me were organic, and so unusual that I just had to take it home and try it.
It tasted like a slightly sweeter version of cauliflower. It did not taste like broccoli at all.
I made two dishes with my Roman Cauliflower.
Romaneso Broccoli Side Dish:
The first dish was a vegetable side dish that was served with steak and baby potatoes.
I mixed half of the chopped Roman Cauliflower with multi-colored chopped carrots, yellow and orange bell peppers, and chopped zucchini. Then tossed them all together with Olive Oil and an all purpose Italian seasoning blend. Put them on a large baking sheet, and roasted them in the oven until they were done.
I ended up sprinkling them with some shredded Asiago Cheese when I served them on the table.
Usually when I have left over vegetables, I end up making a big soup/stew with them. I don't like to spend time chopping a lot, so my soups really become stews !
Chicken Romanesco Broccoli Veggetable Stew:
1. I started out cooking chicken breasts, sprinkled with all purpose seasoning, in the oven. I never put raw chicken or meat directly in a soup.
2. I lightly steamed the rest of my Romanesco Broccoli, then once it cooled I pureed it in my blender with a litte water, to make the base of the soup.
3. Olive Oil in the pot, sauteed the chopped onions, carrots and orange and yellow bell peppers, chopped baby potatoes, and a few small pieces of the broccoli.
4. I sprinkled in a spicier multi purpose spice mix made for chicken.
5. Once the vegetables were done being sauteed, I added the pureed Romaneso Broccoli, a box of Chicken Stock, and brought to a boil. Then lowered to a simmer.
6. Then I added chopped dark Kale to the mix that was cooking.
7. After the chicken was done in the oven, I removed it, and let it cool slightly so I could cut it. I chopped up the cooked chicken and added it to the pot.
8. I let the whole thing simmer on the stove for about a half hour.
9. When serving, you can top the soup/stew with more Asiago Cheese – and serve the whole thing with a hearty multi grain bread.
With the potatoes and chicken and all the broccoli, this ended up being a very hardy soup. I like having a pureed vegetable as the base of a soup, because that makes the vegetable easier to digest. After I ate this, I could just feel in my body that I had just received a ton of nutrients !
The only other vegetable I had left over after this was some zucchini, which I did not add to the second dish. Zucchini is great to have on hand, and makes great low carb snacks, especially for the evening if you want a quick healthy bite.
I just slice the Zucchini, use it to dip into hummus. Or have some slices along with some chopped cheese and salami.
Zucchini is also great is you sprinkle the slices with cheese and roast them lightly in the oven.
Unfortunately, I forgot to take photos of my two Romanesco Recipes ! I have to remember to do this in the future, just in case I post the recipe on the blog.
I hope you enjoy these recipes.
More links about Romaneso Broccoli:
Wikipedia Romanesco Broccoli Page
and
Check out this page on Pinterest : Pinterest Romanesco Broccoli
Click here for Vegetable Gifts:
Zazzle Broccoli Gifts
and
Zazzle Cauliflower