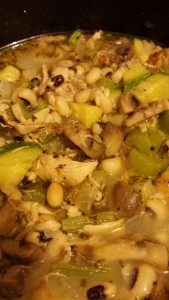 Eating Black Eyes Peas on New Years Day is supposed to bring you good luck and prosperity in the coming year. I am not one to believe much in superstitions, but when I saw Freida's Speedy Pre-soaked Black Eyed Peas being sold in the produce section of the grocery store, I decided that I had to cook something with it. I don't often eat Black Eyed peas, so I figured today was probably the best day to do it.
And with the weather in California getting cold, I have really been into making soups and stews. So I just kind of "winged it" with this one and threw it together. You can adjust the ingredients to fit your tastes.
Then, as I was driving home, I realized that I had forgotten to buy Chicken Stock. So you might want to exchange the water in my receipe for chicken stock. And if you do that, you can probably leave out the chicken skin. Chicken skin is total fat, and I only used it this time to give the soup more flavor. And I will probably pick it out as I eat it.
And you might want to add some chopped spinach or kale to the recipe too. I think I will do that if I make this again.I don't have exact ingredient amounts on this, like I said I winged it.
Black Eyed Peas and Rotisserie Chicken Soup Recipe
Chopped No-Salt rotisserie cooked chicken from the grocery store – 2 legs, 2 wings, and 1 thigh, skin included.
Olive Oil
Half an Onion chopped
Half tablesoon of chopped garlic
Several stalks of celery chopped
1 box of chopped mushrooms
1 Italian squash (or yellow or pattypan) chopped
Water
1 Container of Freida's Speedy Pre-soaked Black Eyed Peas
Oregano and Basil and Black Pepper
1. In a pot, sautee the half onion and garlic in some chicken skin and olive oil
2. Slowly add to the pot, and sautee, one by one: the Chopped Celery, mushrooms and Italian squash
3. Add water
4. Add Black Eyed Peas
5. Add the chopped chicken and rest of skin
6. Add more water if necessary to cover ingredients
7. Add oregano and basil and Black pepper to taste
8. Stir together. Cook over a low heat, for about 20 minutes, or until boiling. Stir often.
Enjoy ! Happy New Year !
Click Here for Black Eyed Peas Tshirts on Zazzle